Charles Gordon, Jr., M.D.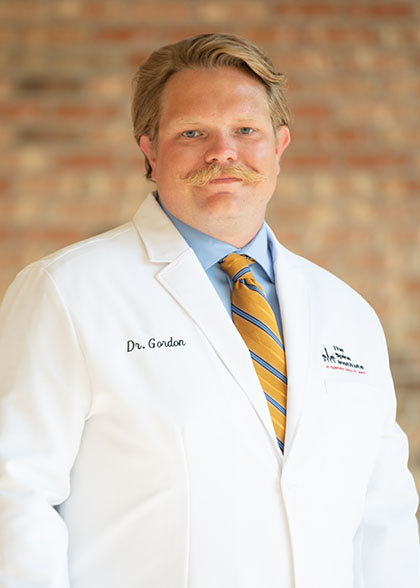 Dr. Charles Gordon is a board eligible, fellowship-trained orthopaedic surgeon with specialized training and emphasis in minimally-invasive spine surgeries. He practices with The Spine Institute at Baldwin Bone & Joint in Mobile and Baldwin County, Alabama.
Education
B.S., General Physics, Millsaps College, Jackson, MS 2007
Medical School
M.D., University of Arkansas for Medical Sciences
Little Rock, AR, 2011
Residency
Orthopaedic Surgery, State University of New York at Buffalo
Buffalo, NY, 2017
Fellowship
Spinal Surgery, University of Maryland and Shock Trauma Hospital
Baltimore, MD, 2018
Certification and Licensure
American Board of Orthopaedic Surgeons, Board Eligible
Alabama Board of Medical Examiners
Societies
AO North America Spinal Surgery, Fellow
American Academy of Orthopaedic Surgeons, Fellow
North American Spine Society
Alpha Omega Alpha Medical Honor Society
Medical Association of the State of Alabama
Alabama Orthopaedic Society
Patient Testimonial

""Quite a few times, I'd go outside to play with my kids, and if I took a wrong step, I'd be on the ground, not able to get up. Dr. Gordon was like 'I can fix you. I can fix it.' He didn't even hesitate about it. […] Dr. Gordon did amazing."

Tim Moseley, Patient of Dr. Charles Gordon, Jr.

Patient Testimonial

"Dr. Gordon, he did the surgery and the pain is gone. And I can walk. I'm really glad I had that surgery. It gave me the ability to really get my life back to where it was before. You don't realize until you have difficulties what mobility is."

Linda Gibson, Patient of Dr. Charles Gordon, Jr.

Dr. Gordon Explains MISS

Dr. Gordon describes some different types of spinal fusion surgery treatment options that are available to those suffering from pain caused by degenerative disc disease, spinal stenosis, and spondylolisthesis and how the minimally-invasive OLIF25™ procedure provides a faster recovery with less post-operative pain for patients – patients just like Steve Schwartzer.

Patient Testimonial

"When I came out of surgery, I reached down to my left leg and I looked at Deb. I said, 'There's no pain. This feels great!" And it did. You know for it being less than 24 hours out of surgery. And to be straight and to walk without any pain? I'm telling you what, I still can't describe it."

Tim Peavy, Patient of Dr. Charles Gordon, Jr.

Patient Testimonial

"It got to a point where I physically couldn't turn and it just continued on and the pain was intensifying. It was hard to walk; it was hard to sit – I just had to say, 'This is not going to work. I gotta find something that will cure it.' And that is when I found Dr. Gordon."

Steve Schwartzer, Patient of Dr. Charles Gordon, Jr.